Welcome to your dream holiday!
An accommodation that surprises: the professionally hand-crafted log villa Eriklinna is not your typical log cabin. It is much more spacious and luxurious than you might expect, but still very cozy and full of feeling. Enjoying a holiday with open fire, good food, drink and friends can be ensured for even a larger group of people, as Eriklinna can accommodate up to 12 people.
Eriklinna offers for example
6 bedrooms, 5 bathrooms and separate sauna and spa facilities
plenty of space for up to 12 people - 376 m2 (4047 sq. ft.) on three floors
high-quality appliances and silverware, tableware, glassware and serving dishes by high-end Finnish design brands.
Elegant and functional villa
Eriklinna has been designed for those Lapland-goers who wish to enjoy high quality accommodation: open spaces, stylish décor and excellent equipment. Eriklinna offers something for guests of all ages, and locating the party on the three floors of this building ensures everyone gets the rest or action they desire.
You can enjoy your holiday at Eriklinna with a good conscience, preserving nature and resources, but without compromising one bit of your pleasure. Ecological building solutions consist of first class building materials, professional and responsible craftsmanship, geothermal heating system, water-circulating floor heating, and forced ventilation. The surrounding nature continues to the interior and atmospheric décor. Eriklinna's textiles are made of cotton, linen, silk and wool. There are voluminous down duvets in the beds.
Eriklinna is always prepared for its guests according to their individual wishes and beds ready made with Eriklinna's own linen. The bed linen, towels, washing up agents, paper materials, fire wood and check-out cleaning are of course included in the rental fee.
Main Floor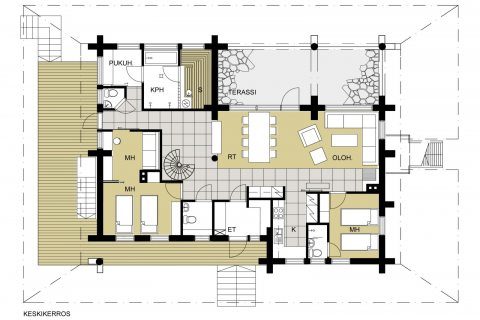 In the main floor of Eriklinna there are the main living areas, sauna, kitchen, two bedrooms and a study. From the living room there is entrance to the roofed terrace, with a view to the lake and the village. Additionally, on two sides of the building there are spacious roofed terraces leading to the yard and to the ground floor.
Eriklinnas exquisite spaces and equipment in detail
In Eriklinna the open layout and professional planning of the spaces and functions will ensure that even a large group of people  can vacation and relax together. We have designed and equipped Eriklinna a beautiful and smooth stay in mind, with touches of luxury and elegance.
Bedrooms
The bedrooms have beds of either 120 cm or 80cm wide. There are beds for a total of 12 guests. The beds can be joined as doubles. In the ready-made beds you'll find voluminous down duvets and Eriklinna's own high-quality linen. In the double beds there is a one-piece mattress and sheets as well as a double duvet.  The blinds in the bedroom windows will offer full shade and thus ensure undisturbed sleep in the midnight sun in the Spring and Summer.
Please let us know your wishes of the sleeping arrangements.
 
One of the main floor bedrooms is en-suite. The other bedroom is separated from the study with a folding door, and the study can easily be converted for example into children's bedroom. There is also a baby cot and linen for it available upon request. There are plenty of bathrooms and shower facilites to ensure a smooth progress of morning and evening activities for the entire party.
Living spaces
The spacious layout of Eriklinna caters for a variety of entertainment and enjoyment, for example a wine tasting. The spacious dining area with adjacent living room has custom designed, carpenter-made furniture; a vitrine and a dining table for 10-12 people. The living room area has a spacious corner sofa, an arm chair, fire place, 55" OLED flat screen TV, dvd- and stereo equipment. From this space you have access to a covered patio with views over the lake and towards the village.
The ground floor lounge caters for our guests of all ages. The adults might like to learn that the bar is fully equipped for a wine tasting, a wine fridge to temper drinks, glasses and supplies for drinks. There is also a side-by-side -fridge for ice crush and cubes. In selecting appropriate drinks the Alko at Jounin kauppa will offer their expertise. According to your wishes, your drinks can be delivered and stored at the right temperatures in advance to Eriklinna.
Kitchen
A separate kitchen with stone counter tops and custom built cabinets. The kitchen is luxuriously equipped with a side by side –freezer/refrigerator and ice cube machine, range hood, XL-dishwasher, convection oven, ceramic stove top, microwave oven, coffee maker, kettle, toaster, as well as a blini pan, raclette- and fondue sets. A generous set of Finnish design tableware for 20 people as well as silverware and an extensive glassware set help you prepare for all occasions – not to mention the cooking and serving dishes. There is also an integrated fridge for drinks in the dining area, and a separate wine cabinet in the downstairs bar.
Sauna and spa
The sauna area on the main floor includes a toilet, a dressing room and a bathing area with two showers and a jacuzzi bath tub. The sauna itself has log and glass block walls and the high-quality Iki-kiuas (bath-house stove) will ensure a blissful sauna experience! From the sauna area you can enjoy views over the lake and towards the village. You also have access to the covered patio, extending to the two sides of the building, so you can cool off after enjoying the sauna.
In the mini spa area downstairs you will find a steam shower with aroma- and color and light therapy, two foot bath tubs and space to relax and wind down. In the mini spa there are aromatic oils for the steam bath, and kits and instruction to prepare foot baths. You can of course also bring  your own supplies. The space can be altered to a massage room where you can enjoy pampering without any disturbances. To ensure a relaxing atmosphere in the spa suite there is a cd player, some cd's, dimmable lighting and candles.
Also rest assured: no matter how many people stay in Eriklinna and wish to bathe at the same time, the ample hot water reservoir run by the geothermal heating system will produce enough hot water for all, no matter how long your party bathes!
Internet
We offer you a complimentary mobile broadband service to ensure keeping in touch and tending necessary affairs during your stay. We have a wifi (fiber) and all you need to bring is your own laptop or tablet.
Parking
There are two heating sockets for motor heating at the parking area, please bring your own cable.
Other equipment
The high-quality bed linen, towels, detergents, toilet paper, fire wood and check-out cleaning are of course included in the rental fee.
Location close to skiing, trekking, beaches...
There is an access to a variety of lit cross country ski tracks and trekking routes of Ylläs directly from the cabin yard. The ski resorts of Ylläs can be easily reached with the ski bus, which stops in the near of Eriklinna. The summer traveler can enjoy the Äkäslompolo-lake and its beaches, the Äkäs-river and the network of well guided hiking trails or the summer activities of the ski resorts such as mountain biking.
Distances:
Cross country ski tracks 200 m
Ski slopes 4300 m
Ski bus 450 m
Lake 200 m
Store 1900 m
Restaurant 1900 m
We have compiled for you a list of services and activities that we like and maybe you would too!